PRODUCT FEATURES
Business and Individuals run on email and email often runs on Outlook. Using secure IMAP, WebPostOffice Email is fully compatible with Outlook (and any other desktop email client); both on Windows and Macs. It also plugs seamlessly into email applications on tablets and smartphones.
Email @ your domain
Secure IMAP (for Outlook & Mobile)
Premium spam & virus protection
Unlimited aliases and group lists
Auto-setup tool
Huge 25 GB mailboxes
Domain aliases
Email forwarding
Easily recover deleted email
50 MB attachments
Additional Benefits
100% Uptime Guarantee
24x7x365 Fanatical Support®
Free and easy migrations
We'll never read or share your email

EMAIL ON THE GO
Life never stops and email has to be accessible from anywhere – at anytime. With WebPostOffice Email you can enjoy access on iOS, Android, Windows Mobile, or even BlackBerry phones and tablets.
WebPostOffice Hosted Email goes wherever you go.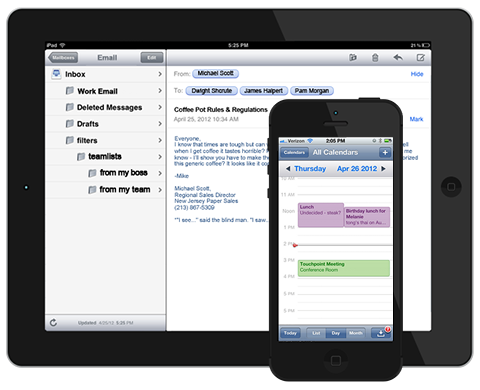 WEBMAIL & APPS
WebPostOffice Webmail is powerful enough to be your everyday — every email — messaging application. In addition to robust email capabilities, it also features collaboration apps and tools to help your business collaborate and communicate more effectively.
Web-based, anywhere access
Shared calendaring
Company directory (GAL)
Advanced message-filtering
Instant Messaging (Chat)
Out of office auto-responder
SMS password reset
Attach files from Dropbox
Tasks and notes
Email "undelete"
Multiple identities and signatures

4+ MILLION USERS TRUST RACKSPACE WITH HOSTED EMAIL.